Archaeology at Beaver Creek
Archaeological evidence from the Beaver Creek watershed consists of petroglyphs, dwellings, canals, and artifacts dating back to the Sinagua Indians that inhabited the area from about 900-1425 A.D. The dwelling we call Montezuma Castle is perhaps the most striking indicator of Sinagua existence. Situated within a limestone cliff overlooking Beaver Creek, the dwelling consists of seventeen rooms and is located approximately 11 miles southwest of Montezuma Well. Montezuma Well is an approximately 368-foot deep well formed by the surface collapse of limestone bedrock. The well and the creek were the primary sources of irrigation water for Sinagua agricultural practices.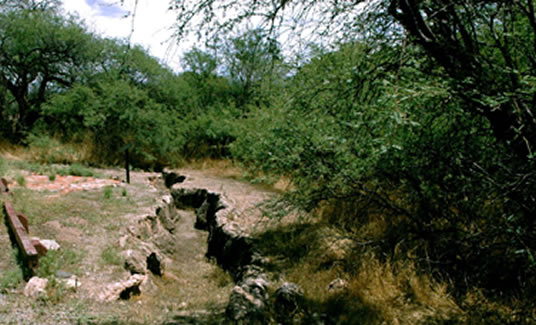 An ancient Sinagua canal located near the picnic area at Montezuma Well
The second most striking example of Sinagua culture is the written record left behind in petroglyphs. A distinct petroglyph style has been identified at sites within the Beaver Creek watershed and named the "Beaver Creek style." This particular style has been attributed to Sinagua culture during the time period of about 1150 A.D. to 1400 A.D. There are three distinct locations where this petroglyph style can be seen within the watershed. The first is at V-Bar-V Ranch, where there are more than 1,000 petroglyphs. Additional sites are found within Red Tank draw and along Bell trail. To view pictures of these sights, visit our Sinagua Circle page.
In addition to the dwellings and petroglyphs, several Sinagua irrigation canals are relatively intact and some of them are still in use today. Several trails in the Montezuma Well area follow these canals, providing an insightful tour of Sinagua agricultural practices. Different types of artifacts have been found within the dwellings in the area. Excavation sites have yielded jewelry and pottery, as well as the remains of beans, cotton, corn, squash, agave, nuts and seeds. The variety of food items found indicates that the Sinagua may have foraged for food as well as growing their own.